Dog Walking
We provide dog walking services for clients that need an ongoing dog walker. We provide structured walks, and can address bad leash manners, like pulling, and leash reactivity with training. Whether your dog needs a potty break, needs exercise, or just needs to get out for a little bit during the day our dog walks are perfect.
Your dog will have a chance to get out their energy and their leash manners will be better for it. Contact us today to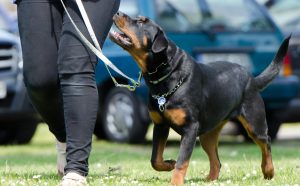 get on our schedule!
30 Minute Walk $25
Additional Dog Charge $10/a walk
Holiday Surcharge $7/a walk
Train and Walk $50/a walk (Train and walks will be in training for two weeks, or a total of 10 visits)
What is a structured walk?
A structured walk is where your dog will respect doorways or gates wait patiently to be invited out, your dog will heel with a loose leash and not pull or drag, your dog will automatically sit when you stop to cross a road, talk to a neighbor, or check the mail etc. and your dog will be focused on walking, and not react to other passerby's including other dogs.
Continue daily walks after your dog has finished the Train and Walk program with our 30 minute walk to maintain all your new training progress!